Introduction
The pharmaceutical industry should be discussed in the context of its global expansion. The problem is that the global business world has altered significantly in recent decades, leading to positive and negatives outcomes for globally oriented industries (Gaudillière 2015).
Buyer behaviour has changed significantly, resulting in the generation of health-conscious customers interested in high-quality innovative products. Suppliers and buyers seem to have significant impacts on setting prices and influencing the market demand (Löfgren & Williams 2016). In this challenging context, it is necessary to analyse how pharma companies can develop an effective business strategy to succeed in the global market (Johnson et al. 2017). The purpose of this report is to analyse the evolution of the global pharmaceutical industry applying PESTEL and Porter's 5 Forces analyses and provide recommendations.
Analysis of the Situation: Drivers of Change
In the global pharmaceutical market, such drivers of change as the development of technology, governments' regulations, and alterations in buyers' behaviour have influenced the market. China and India can become potential leaders of the industry in the future (Johnson et al. 2017; McKelvey & Bagchi-Sen 2015). This situation accentuates the necessity of conducting the PESTEL (Political, Economic, Social, Technological, Environmental, Legal) analysis.
PESTEL Analysis
Political factors
Activities of governments directly influence the development of local pharmaceutical markets and the process of their globalisation. Government regulations have significant effects on the progress of this industry in a certain country as governmental agencies set requirements which need to be addressed by pharmaceutical companies to promote their products (Pharmaceuticals global industry almanac 2019).
In the United States, the Food and Drug Administration (FDA) is responsible for guaranteeing that medicines entering the market are safe and effective (Johnson et al. 2017). The European Medicines Evaluation Agency (EMEA) is responsible for approving medicines produced in Europe according to a unified regulatory procedure that allows for opening the European single market for pharmaceutical companies from different countries of this union (Smith 2016). Still, in addition to easing regulations to address globalisation trends, governments can also impose certain challenges for pharmaceutical companies.
Price control is one of such challenges that prevent companies from generating resources for further research and development (R&D). One of the main characteristics in this area is the existence of 'parallel trade', especially in the European Union (Johnson et al. 2017). Thus, being equipped with price control policies, pharmaceutical companies choose to purchase resources in countries with the lowest prices for substances and buy medicines in the countries with the highest drug prices.
Political stability in a country, tax policies, and different types of trade restrictions significantly influence the development of the pharmaceutical industry, its orientation towards globalisation, and the well-being of nations (Toumi 2017). Thus, the interest of governments in the pharmaceutical market is explained with reference to the fact that access to available drugs contributes to protecting the health of citizens (Nally 2016). In many countries, the industry still faces the effects of a monopsony in the market when the government is an only influential purchaser of products.
Economic factors
Economic crises and recession have a significant effect on the pharmaceutical industry influencing consumer income and demand. When consumers' income decreases, sales of pharmaceutical companies reduce significantly despite governments' efforts to support the industry (Global pharmaceutical industry 2019). Additionally, the global market is also influenced by changes in the exchange rate associated with the economic stability of a country (Gereffi 2017). This aspect also influences consumers' choice of less expensive generics. Another important aspect related to the sphere of economy is 'parallel trade', which was described in the previous section.
Social factors
Important social factors that have influenced the development of the global pharmaceutical industry recently are changes in the average life expectancy, as it increased by more than one decade, and income according to the Human Development Index (HDI). Furthermore, buyers became more aware of their health conditions and focused on following a healthy lifestyle (Ding, Eliashberg & Stremersch 2016).
As a result, potential buyers became interested in purchasing drugs tested with reference to the real-world evidence. Additionally, medicines that treat the results of certain lifestyles also became popular among buyers: drugs to treat obesity, diabetes, and hair loss, for example (Johnson et al. 2017). Furthermore, a high percentage of consumers represent the aging population that influences the choices of pharmaceutical companies regarding the development and promotion of drugs.
Technological factors
These factors directly influence the development of the pharmaceutical industry. The first factor is the achievements in R&D of companies that work to implement innovation in their operations and formulas. Thus, if a company does not invest in its R&D, it cannot compete in the global pharma market (Jörn 2016). Mergers and acquisitions in the industry lead to expanding R&D programmes and increasing investments to be able to use the latest technologies in developing and testing new medicines (Hu et al. 2015). The use of innovative technology is currently regarded as an important component of competitive advantage as it is expensive and requires companies to choose between implementing independent R&D programmes or outsourcing medicine development to Contract Research Organisations.
Environmental factors
Pharmaceutical companies need to focus on decreasing the negative effect of their activities on the environment in terms of eliminating soil, air and water pollution and implementing waste management programmes. The problem is that pharma companies are limited in their activities by the environment protection standards to decrease the effects of hazardous and chemical waste on their nature (Belkhir & Elmeligi 2019). Thus, the process of producing medicines is regulated at national and world levels to reduce pharma waste in the form of chemicals, antibiotics and plastic among other substances.
Legal factors
The pharma industry is one of the most regulated in the world because of the direct effect of its products on people's health. Other legal factors include the impact of using patents, as well as copyright and intellectual property laws. Companies inventing innovative medicines are protected by laws from being copied in their activities, but they are still limited to ensure that operations do not harm the community (Cartwright & Matthews 2016). Thus, pharma companies need to adhere to a variety of national and global regulations and standards to develop in the ethical and legal context.
Porter's 5 Forces Analysis
Michael E. Porter's 5 Forces analysis is a useful tool to assess the competitiveness within the industry. Figure 1 provides the visual representation of these forces in their interrelationship.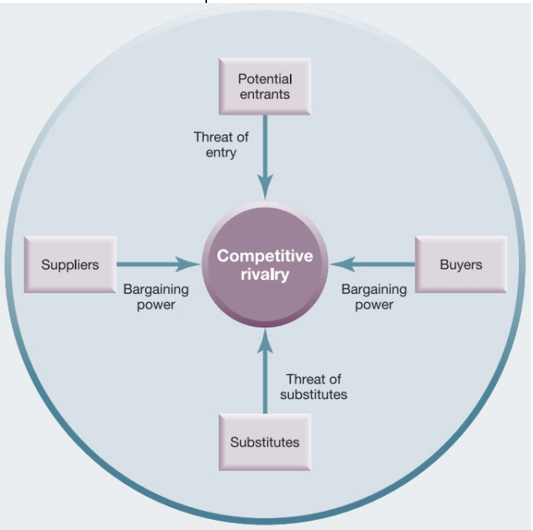 The threat of entry
In the pharmaceutical industry, the threat of entry is low because of such barriers as the required capital, the necessity to adhere to numerous regulations and policies, and legal restrictions. To enter the market, a company requires significant financial resources to research, develop, and produce a new product, and the overall process takes years of researching and testing (Johnson et al. 2017). Furthermore, it is necessary to follow patent regulations and national and global standards regarding the product quality.
The threat of substitutes
The threat of substitutes in this industry is very high because different companies produce generics and similar biopharmaceuticals to address consumers' demand. Consequently, expensive branded medicines need to develop effective marketing strategies to compete with cheaper generics (5 Trends impacting the 2019 pharmaceutical supply chain 2019). At the global arena, the threat of substitutes is significant as generics and less costly drugs from India, for example, can easily compete with branded medicines produced in the US and European countries.
The power of buyers
The role of buyers in influencing the competition in the industry can be discussed as comparably high because governments often act as primary buyers of medicines and they control prices. Furthermore, wholesalers have an opportunity to choose between different pharma companies depending on product prices and expectations of pharmacies and healthcare organisations (Gassmann et al. 2018). Thus, the type of consumers and their number can potentially affect the competition in this industry.
The power of suppliers
The influence of suppliers in the industry can be discussed as moderate. On the one hand, pharmaceutical companies can choose among several suppliers to buy the cheapest primary or raw products. On the other hand, the number of these suppliers is low in comparison to other industries (Lemoine 2017). It is rather problematic for suppliers to succeed in the market while providing high-quality chemicals, and high switching costs are also typical (Cartwright & Matthews 2016).
Competitive rivalry
The competitive rivalry in the pharmaceutical industry can be regarded as extremely high because numerous companies have entered the global business environment and compete for buyers. Multinational corporations that compete with each other investing significant resources in R&D and marketing are typical of this industry. Companies from BRIC countries (Brazil, Russia, India, China) also grew as influential competitors today despite the strong correlation between countries' GDP and the pharma market's progress (Whewell 2016). Those pharma companies that contribute to R&D and receiving patents gain a significant competitive advantage.
Competitive Strategies and the Value Chain
Porter developed three generic strategies to achieve the competitive advantage based on a value chain: cost leadership, focus and differentiation (Figure 2). In the pharma industry, organisations typically apply two strategies to remain competitive: cost leadership with a focus on producing less expensive generics and differentiation applied by the industry leaders to cover more market segments (Johnson et al. 2017).
Thus, the majority of pharma firms do not choose the narrow focus-based strategy because of its limits for addressing the needs of a wider group of potential customers. Those companies that orient to both cost leadership and differentiation are aimed at producing drugs to cover the needs of as many buyers as possible (Schuhmacher, Gassmann & Hinder 2016). Such global giants as Sanofi, Pfizer, GSK and Teva choose differentiation as the competitive strategy by identifying activities to increase the customer value and determining possible opportunities of differentiation (Gassmann et al. 2018).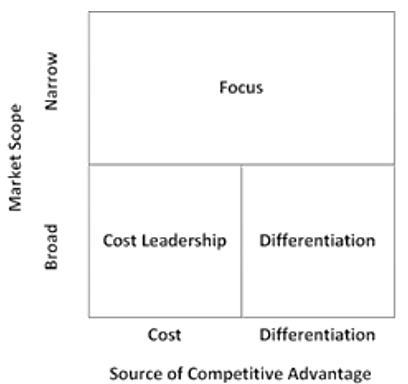 In this context, the value chain is important to be discussed for the global pharmaceutical industry (Figure 3). According to Porter, the value chain serves to represent categorised activities for generating a product with a focus on such primary activities as inbound logistics, operations, outbound logistics, marketing and sales and services, as well as secondary activities (Johnson et al. 2017). In the pharma industry, primary activities adding value in the context of the cost leadership strategy include improving operations through focusing on R&D, laboratory work, production, and testing (Reddy et al. 2017; Sevilla 2015).
Learning processes and the focus on R&D are important for pharma companies to guarantee the maximum capacity utilisation. Furthermore, to decrease costs, pharma companies organise inbound and outbound logistics in emerging countries to benefit from a geographic location and minimise the effects on institutional factors.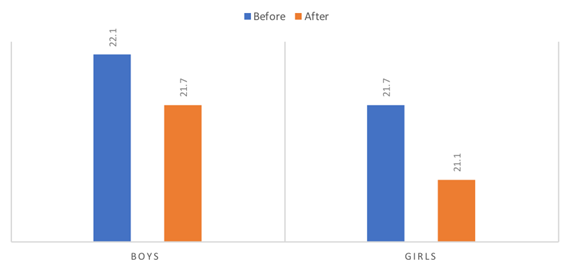 The value chain based on the differentiation strategy is characterised by accentuating relationships between activities as primary processes, focusing on integration, mergers and acquisitions, applying larger scales, and benefitting from active marketing. Furthermore, in this case, technological development and human resource management are not only supportive activities but also major factors to guarantee achieving competitive advantage by using technological advancements and attracting the best scientists and researchers for developing new medicines (Limaye, Kumar & Limaye 2018). Outsourcing and offshoring are used for both strategies: to decrease costs in the first model and to increase productivity in the second one.
Evaluation and Discussion
Outcomes of PESTEL Analysis for the Pharmaceutical Industry
The PESTEL analysis allows for identifying drivers of change in the global pharmaceutical industry with reference to the evaluation of the macro-environmental factors. Political factors associated with implementing stricter regulations to control the quality of produced medicines at a national level created certain barriers for pharma industries. Suppliers also need to adhere to strict globally adopted regulations to be selected by pharma companies (Tannoury & Attieh 2017; Whewell 2016). Recently, social factors have significantly changed the nature of the global pharma market because of the purchaser pressure, changes in the average life expectancy, and the role of the government as the major purchaser of pharma products.
Technology development has also critical effects on the pharma industry. R&D needs to be highly invested for a pharma company to remain competitive, as a result, many companies choose mergers and acquisitions to gain more resources. Pharma companies also experience pressures associated with environmental protection laws, and they need to spend resources to eliminate negative effects on the environment (Cavalan et al. 2018). Additionally, to remain successful, it is necessary to effectively compete in the field of patents and intellectual property because of substitutes.
Outcomes of Porter's 5 Forces Analysis for the Pharmaceutical Industry
The pharma industry has become highly competitive because of the increased role of large producers from the emerging or developing markets, including BRICs and changes in the profile of buyers. Thus, the Purchasing Power of Parity in emerging nations increases in association with growing GDP, leading to the role of these markets and companies from Brazil, India, and China in the global pharma competition (Whewell 2016). Although the number of individual buyers increased during recent years, they became more conscious and interested in purchasing less expensive but high-quality products, and the role of monopsony also grew (Cavusgil et al. 2014).
Indian and Chinese producers allowed for increasing the power of more available suppliers providing cheaper raw materials and intensifying the threat of substitutes with a focus on generics. These trends have resulted in increasing the competition for market leaders (Kido, Matsumaru & Tsukamoto 2019). Although the entry barriers are still considered to be very high in the global pharma industry, the competition increases because only firms oriented to innovation gain the competitive advantage through receiving patents and investing greatly in R&D.
Entering the global market, pharmaceutical companies are expected to address the power of buyers and the high competition through investing not only in R&D but also in marketing and promotion. This approach is important to gain the competitive advantage over companies selling less popular generics (IMS Institute for Healthcare Informatics 2014; Johnson et al. 2017). Another strategy is the focus on mergers and acquisitions to cover more market segments and receive more resources.
Role of the Value Chain in Developing Competitive Advantage
In the micro-environment, the development of an effective value chain plays an important role in achieving competitive advantage. It is also necessary to state that the complexity of the pharma industry does not allow for gaining absolute advantage, but emerging nations can achieve some results in this direction. Therefore, many global companies develop acquisition and entrance strategies to perform in growing markets of developing countries through modifying their value chains (Whewell 2016). The focus is on applying VRIN strategies (Valuable, Rare, In-imitable, Non-substitutable) for pharma products (Cavusgil et al. 2014).
Multinational pharma companies can gain competitive advantage when they organise inbound and outbound logistics and operations in emerging nations, using cheaper material resources for primary activities and cheaper human resources for supportive activities (Flynn 2014). The next step is the focus on technology and R&D because of the necessary to create a valuable, customer-oriented and rare product that is difficult to be imitated and substituted (Mukherjee 2015). The resource-base of developing countries is also appropriate for these tasks.
The value chain oriented to reducing costs and increasing differentiation for global pharma leaders allows them to achieve sustainability when they save resources for addressing community and environmental needs. Entering emerging markets, global pharma leaders can also address customer value through making high-quality products available (Cavusgil et al. 2014; Mukherjee 2015). Finally, the development of an effective value chain for gaining the competitive advantage is almost impossible without visionary leadership because effective leadership and management are important to survive in the highly competitive pharma market.
Globalisation of the Pharmaceutical Industry
The analysis of the case indicates that the global pharma industry is connected with certain barriers for multinational pharma corporations. The problem is that international organisations need to compete under the impact of technological, political, and legal factors (Mukherjee 2015). The number of potential consumers has increased, but regulations have become stricter along with the process of approving the quality of products. R&D has started to play a critical role in creating the competitive advantage, but the associated costs increased, the risk of substitutes increased, R&D productivity decreased (Cavusgil et al. 2014; Sevilla 2015). As a result, the two leading competitive strategies applied by multinational pharma companies are cost leadership with a focus on cost reduction approaches and differentiation selected by giants oriented towards acquisition and mergers.
Recommendations
To succeed in the active rivalry in the global pharmaceutical industry, an international pharma company needs to focus on opportunities provided by emerging markets, technologies, social factors, and unaddressed needs. These issues represent the scope of areas to cover and specific goals to plan an effective strategy for organisations to implement and achieve competitive advantage (Cavusgil et al. 2014). A successful strategic plan should include procedures for decreasing costs on all areas not related to researching and testing medicines, finding new origins of raw materials, and applying new approaches.
A favourable strategic plan for an international organisation is based on the following steps:
Determining large emerging markets to enter and shift there both primary and secondary value chain activities.

An international pharma company is recommended to promote purchasing raw materials and promoting pharma sales in emerging markets where costs are lower(Tannoury & Attieh 2017).

Redistributing costs saved in emerging markets for supporting R&D with a focus on inventing new medicines.

To address substitution from biotech products, a company should invest more in R&D to propose innovative solutions (Tannoury & Attieh 2017).

Relying on inventing new drugs to address unmet medical needs.

In most cases, globalised companies have resources to develop innovative products. This advantage should be used to receive patents and prevent the risk of substitution (Nozari & Szmelter 2018). The variant of a strategically beneficial merger or an acquisition can be considered to unite resources.

Differentiating products to address the needs of more health-conscious and educated buyers.

Modern consumers are different, and they demand approaches and medicines for personalised healthcare (Johnson et al. 2017). A pharma company should propose solutions for these new customers.
Each international pharma company should focus on:
Implementing changes.
Redistributing and reducing costs.
Hiring high-class scientists and researchers.
Preventing copying medicines using patents.
Developing personalised care.
These actions are beneficial for pharmaceutical companies to address the obstacles related to changes in the global market.
Conclusion
The analysis of the global pharmaceutical industry based on applying the PESTEL tool and Porter's 5 Forces indicates that the industry has changed significantly during the recent decades. The factors that can affect the development of the market have become more stringent, and the competition has increased because of the changed role of players from emerging nations. Governmental regulations, the progress of technologies, the threat of substitution, and the changed role of customers influence pharma companies in micro- and macro-environments. To remain competitive, these companies pay more attention to improving their value chain and reducing costs.
The analysis shows that pharma companies select both cost reduction and differentiation strategies to succeed. In both cases, companies use all the opportunities to adhere to strict regulations and reduce costs. They need to adopt VRIN strategies for their products to remain competitive and propose unique medicines to address unmet needs. The recommended strategy for an international business to succeed in the industry is based on the strategic plan that includes four goals. Thus, it is necessary to refer to emerging markets, investing more in R&D, inventing new products, and addressing new needs of consumers. In this case, an international pharma company will avoid copying its products, save resources, and attract new consumers.
Reference List
Belkhir, L & Elmeligi, A 2019, 'Carbon footprint of the global pharmaceutical industry and relative impact of its major players', Journal of Cleaner Production, vol. 214, pp. 185-194.
Cartwright, A & Matthews, B (eds.) 2016, International pharmaceutical product registration, CRC Press, London, UK.
Cavalan, Q, Hazan, M, Hu, I & Zighed, R 2018, 'Prices, patents and access to drugs: views on equity and efficiency in the global pharmaceutical industry', Revue Française Des Affaires Sociales, vol. 3, pp. 249-268.
Cavusgil, TS, Knight, G, Riesenberger, JR, Rammal, HG & Rose, EL 2014, International business: the new realities, Pearson Australia, Sydney.
Ding, M, Eliashberg, J & Stremersch, S 2016, Innovation and marketing in the pharmaceutical industry, Springer, New York, NY.
5 Trends impacting the 2019 pharmaceutical supply chain 2019. Web.
Flynn, MB 2014, Pharmaceutical autonomy and public health in Latin America: state, society and industry in Brazil's AIDS program, Routledge, London, UK.
Gassmann, O, Schuhmacher, A, Von Zedtwitz, M & Reepmeyer, G 2018, Leading pharmaceutical innovation: how to win the life science race, Springer, London, UK.
Gaudillière, JP 2015, The development of scientific marketing in the twentieth century: research for sales in the pharmaceutical industry, Routledge, London, UK.
Gereffi, G 2017, The pharmaceutical industry and dependency in the third world, Princeton University Press, New York, NY.
Global pharmaceutical industry 2019-2023. 2019. Web.
Hu, Y, Scherngell, T, Qiu, L & Wang, Y 2015, 'R&D internationalisation patterns in the global pharmaceutical industry: evidence from a network analytic perspective', Technology Analysis & Strategic Management, vol. 27, no. 5, pp. 532-549.
IMS Institute for Healthcare Informatics 2014, Understanding the pharmaceutical value chain. Web.
Johnson, G, Whittington, R, Scholes, K, Angwin, D & Regnér, P (eds.) 2017, Exploring corporate strategy, 11th edn, Pearson, New York, NY.
Jörn, A 2016, Pfizer and the challenges of the global pharmaceutical industry, Anchor Academic Publishing, London, UK.
Kido, K, Matsumaru, N & Tsukamoto, K 2019, 'Health technology assessment in Japan: A pharmaceutical industry perspective', Therapeutic Innovation & Regulatory Science, vol. 53, no. 4, pp. 472-480.
Lemoine, P 2017, Best practice in pharma supply chain management. Web.
Limaye, R, Kumar, L & Limaye, N 2018, 'Fourth generation technologies in pharmaceuticals-revolutionizing healthcare', Journal of Systems Biology & Proteome Research, vol. 2, pp. 1-12.
Löfgren, H & Williams, O (eds.) 2016, The new political economy of pharmaceuticals: production, innovation and TRIPS in the global south, Springer, London, UK.
McKelvey, M & Bagchi-Sen, S (eds.) 2015, Innovation spaces in Asia: entrepreneurs, multinational enterprises and policy, Edward Elgar Publishing, London, UK.
Mukherjee, A 2015, 'The pharmaceutical value chain: local and global insights', International Journal of Pharmaceutical and Healthcare Marketing, vol. 9, no. 1, pp. 1-12.
Nally, JD 2016, Good manufacturing practices for pharmaceuticals, CRC Press, London, UK.
Nozari, H & Szmelter, A (eds.) 2018, Global supply chains in the pharmaceutical industry, IGI Global, London, UK.
Pharmaceuticals global industry almanac 2014-2023. 2019. Web.
Reddy, S, Raja, M, Jigeesh, N & Kumar, P 2017, 'The integration of project management with supply chain management in Indian pharmaceutical projects', IUP Journal of Supply Chain Management, vol. 14, no. 4, pp. 1-12.
Schuhmacher, A, Gassmann, O & Hinder, M 2016, Value creation in the pharmaceutical industry: the critical path to innovation, John Wiley & Sons, New York, NY.
Sevilla, JP 2015, 'Value pricing by developing countries and its impact on allocative and dynamic efficiency in the global pharmaceutical industry', Journal of Law, Economics and Policy, vol. 12, no. 2, pp. 1-12.
Smith, BD 2016, The future of pharma: evolutionary threats and opportunities, Routledge, London, UK.
Tannoury, M & Attieh, Z 2017, 'The influence of emerging markets on the pharmaceutical industry', Current Therapeutic Research, vol. 86, pp. 19-22.
Toumi, M 2017, Introduction to market access for pharmaceuticals, CRC Press, London, UK.
Whewell, R 2016, Supply chain in the pharmaceutical industry: strategic influences and supply chain responses, Routledge, London, UK.